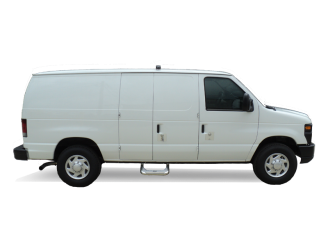 Packing all of the security that Griffin Inc. is known for into a cargo van provides our customers with an alternative vehicle, that is very capable of getting the job done. Armored vans are available in protection levels from NIJIIIA to NIJIII and from level C5 to C6Plus. All armored vans offer six-sided protection.
Our Smart Vans will work well in your fleet for servicing ATM and light cash work when your GVWR requirements are 9,000 to 11,000 Lbs. with payloads of 1,200 to 3,000 Lbs. No CDL License required.
Griffin Armored ATM & Cash-In-Transit Van Standard Features Include:
Certified bullet resistant materials Armored on six sides: front, rear, roof, floor, sidewalls and doors
Only industry approved manufacturing techniques and systems used in construction
A combination of ballistic steel and other materials are used to produce ballistic levels specified by the customer
Each body equipped with driver and front passenger doors and curbside cargo door and single or dual rear doors
Each body equipped with a solid bulkhead partition located behind the driver and front passenger seats.
It is equipped with two 16″ x 19″ bullet resistant windows, one gunport and speak-thru screens
Additional air conditioner and heater for the rear compartment
Messenger seat in rear with L-shaped protective cage Shelving located on rear compartment wall
Body equipped with two fire extinguishers one in front and one in rear compartment
Body equipped with D.O.T. safety equipment
All seats equipped with three position retractable safety belts
One Magliner two wheel dolly and storage rack Rhino lining front and rear floors
Electric locks on passenger front door and side cargo door.
Driver controlled 12 Volt circulation fans at all seat locations
All doors equipped with door ajar security systems and dead bolt locks Siren located under hood
Rotary latch locking system.
All doors equipped with Best or Medeco Locks.
Available Optional Equipment:
Electric Door Lock Systems for All Doors
Dual Control Locking Systems Cameras, Monitors and DVR Recorders
Radio Mounts and Antennas
Custom Designed and Installed Decals
Rotary latch locking system.
Very Strict Quality Control Procedures: